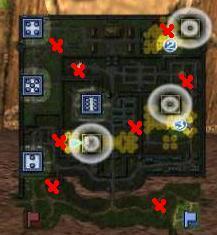 Quest Grade
C
Quest NPC
Generals with Technology Domestic
Time
 ??:56
# of Players
3
Major Domestic
Technology
Minor Domestic
Distribution
Commerce
Damage needed?
Yes
Player 1 starts at near Base 3.
Player 2 starts at near base 1.
Player 3 starts at near Base 7.
Trainer will ask to capture the nearest base (Tower base) and defeat 200 troops. After that 4 Drill Captains will randomly spawn.
Each color represents the suggested route that each player should take when searching for Drill Captain.
Player 1 : Purple route
Player 2 : Blue route
Player 3 : Green route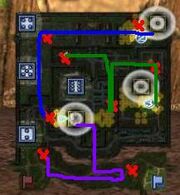 Once all Drill Captains are defeated, the three players must go to Base 6 to capture it.
WARNING: Do not capture Base 6 unless everyone is in that base.
Ad blocker interference detected!
Wikia is a free-to-use site that makes money from advertising. We have a modified experience for viewers using ad blockers

Wikia is not accessible if you've made further modifications. Remove the custom ad blocker rule(s) and the page will load as expected.