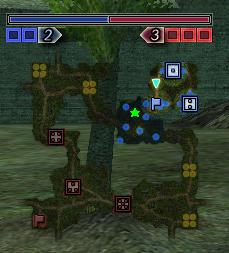 | | |
| --- | --- |
| Quest Grade | C |
| Quest NPC | Bar Manager |
| Time | 14:56 |
| # of Players | 1 |
| Major Domestic | Technology |
| Minor Domestic | Distribution |
| Damage needed? | No |
You have to find the nectar for Yin Mi. The location of the nectar is determined completely by random. To find the nectar you just have to find a certain spot and stand on it. You will then get a message that you picked up the nectar. There are NPCs located throughout the area that will give you hints on whether the nectar is nearby or not. Some NPCs won't give you any useful information, but there are 3 NPCs will give you hints that the nectar is close by:
"Mmm...I smell something really sweet."
"I can smell something sweet, but I don't know where it's coming from."
"Mmm...something smells good."
The nectar is located between these NPCs. If you a form a triangle between the NPCs the nectar should be located in the middle of that triangle. If you look at the diagram on the right. There are two different messages indicating the location of the nectar. The first message is "A sweet aroma is floating in the air.". As you get closer you will see the message "The smell is getting sweeter!". The way these messages work is that they encompass a circle. The nectar is located in the very center of this circle. When you step outside that circle you will get the message "The sweet smell has disappeared!"
Once you find the nectar, many red troops will pop up. Just defeat 200 of them and the quest will end.
Rank
Condition
Reward
S
Find the nectar
NO TIME LIMIT to find the Nectar
Kill 200 troops (MUST be within 2 minutes upon their appearance)
M: Regal Crown +4 x1
F: Dancer's Gold Comb +4 x1
Mirror x4
Anti-wind element+1 x1
Fire/Ice/Vorpal/Wind Speed Scroll Recipe (One per attempt) in this order
A
Find the nectar
Kill 200 troops (within 3 minutes upon their appearance? )
M: Regal Crown +2 x1
F: Dancer's Gold Comb +2 x1
Mirror x4
B
??
??
C
Find the nectar in last 2 minutes
Received all the tips from the NPC?
Quest will be auto ended, no needs to kill 200 troops or
Find the nectar at any time
Do not kill 200 troops before time ends
M: Regal Crown x1
F: Dancer's Gold Comb x1
250 Gold
D
If you walk of the nectar area, Yin Mi will reduce your evaluation
M: Regal Crown x1
F: Dancer's Gold Comb x1
E
??
??
Ad blocker interference detected!
Wikia is a free-to-use site that makes money from advertising. We have a modified experience for viewers using ad blockers

Wikia is not accessible if you've made further modifications. Remove the custom ad blocker rule(s) and the page will load as expected.