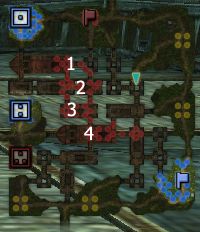 | | |
| --- | --- |
| Quest Grade | B |
| Quest NPC | Clerk |
| Time | 9:56 + 3:00 |
| # of Players | 1 |
| Major Domestic | Commerce |
| Minor Domestic | Peace |
| Damage needed? | No |
To get the best grade for this you have to not upgrade anything on your weapon (this includes Lieutenant and Combo) the amount of times you die has no effect on your grade, but upgrading your weapon does. Random slots (Attack x2, Defense x2 & Max Speed) are okay to use. The stage is always raining (thus True Musou spamming isn't effective) and all hoodlums start with Armor Level 4 (only Musou flinches) after you defeat one the other three will lose their Level 4 armor and will flinch normally.
Recommended Item: Vorpal Orb/True Vorpal Orb
Suggested Weapons: C. Blade (Pierce or Moon), I. Rod (Pierce), I. Sword (Crescent), I. Blade (Pierce). Each of these Emblems hit more than once with elemental activation, I. Rod Pierce and I. Blade Pierce works best while the hoodlums still have Level 4 Armor.
Side note: This quest can be done with T. Blades C2-2 (Vorpal attack). First guy just need to put the stairs (one that leads to the rest of the guys) between you and the first hoodlum. Have the guy close to the column. Step back once C2-2 while aiming forward and repeat. For the other 3 hoodlums spam C2-2 next to a wall and use any attack or speed buffs that you get. No Vorpal orb needed.
Ad blocker interference detected!
Wikia is a free-to-use site that makes money from advertising. We have a modified experience for viewers using ad blockers

Wikia is not accessible if you've made further modifications. Remove the custom ad blocker rule(s) and the page will load as expected.