Allows you to send and receive mail, also to send items to other players in the game that are on your friend list in your faction. Only the player with a Shipping Desk can deliver items via mail.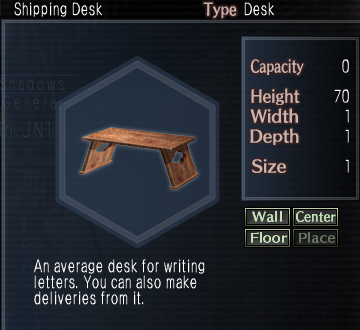 This can be bought at the Antiques Dealer for 560 AP.
What can be shipped

What can't be shipped
Ad blocker interference detected!
Wikia is a free-to-use site that makes money from advertising. We have a modified experience for viewers using ad blockers

Wikia is not accessible if you've made further modifications. Remove the custom ad blocker rule(s) and the page will load as expected.