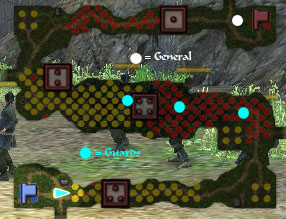 | | |
| --- | --- |
| Quest Grade | S |
| Quest NPC | Commanding General |
| Time | 14:56 |
| Major Domestic | Technology |
| Minor Domestic | Military |
| Damage needed? | Yes |
Objectives
Capture all 4 bases
Get 900 KO's
Defeat 3 Guards
Defeat your General
Bases
1. Captain
2. Tower
3. Officer
4. Troop
Rewards
+3 Cape of your representing faction.
1 Velocity Scroll
2 Confucian Classics
It is recommended to be familiar with the Forest map to know where the hidden passages are and which ones have barricades in them.
Step-by-step walk through by KiemThanh.CA1 (updated by anonymous)
1) Upgrade attack and rush to Base 3 (officer)
2) Use hidden path to head north to capture base #4. On your way to entering the hidden path, upgrade any damage you can, there is a wooden barricade that requires damage to break it down faster.
3) Achieve 700 KO's near and around the two middle bases. Use this time to finish upgrading. Upgrading all your damage and 3 combos is a must for the next step!
4) Head west and capture base #2 (Tower base).
5) Head east and use hidden path to head up north to capture base #1 (Captain Base).
6) Use hidden path again to head back down to base 4 (Troop base) when you reach 900 KO's 3 Guards will spawn.
7) Use hidden path and head up North again to defeat your commander, they will spawn west of the enemy supply base. There are wooden boxes around with the Imperial Seal, Get red HP (true musou) and if possible grab Attack 2x and musou your general.
Ad blocker interference detected!
Wikia is a free-to-use site that makes money from advertising. We have a modified experience for viewers using ad blockers

Wikia is not accessible if you've made further modifications. Remove the custom ad blocker rule(s) and the page will load as expected.