| | |
| --- | --- |
| Quest Grade | C |
| Quest NPC | Bar Manager |
| Time | 14:56 |
| # of Players | 2 |
| Major Domestic | Distribution |
| Minor Domestic | Military |
| Damage needed? | Yes |
Note: It is absolutely critical that the players stay close to each other. If you are separated by more than the mini map range, there will be a warning. If it happens too often or for too long, the quest will Fail.
- Capture 4 bases (Captain, Officer, Tower, Troop) and while doing so, get a total of 1000 KO between the 2 players. You must have 1000 KO before capturing the last one of the 4 bases and remember, farm in the mini map range of your team mate.
Extra Note and Tip: You can even calculate cleverly for example, the tower bases have 20 troops, Troops bases has 100 total troops and so on. For that you get the 1000 KOs cleverly, and don't get too heavy over the KO number and save more time; you just need 1000 KOs among the two players, but wanna get them as fast as possible, as time is of the essence to achieve the S rank. Usually leave the Troop base last and go cap it when you have around 900 KOs combined. Ping target locations and routes to follow. Slow down for partner if you're faster. Withdraw may lower grade depending on where players and closest blue base is. Finally 2 bosses will appear, defeat them both.
Video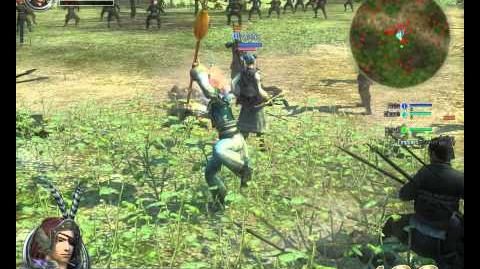 Ad blocker interference detected!
Wikia is a free-to-use site that makes money from advertising. We have a modified experience for viewers using ad blockers

Wikia is not accessible if you've made further modifications. Remove the custom ad blocker rule(s) and the page will load as expected.