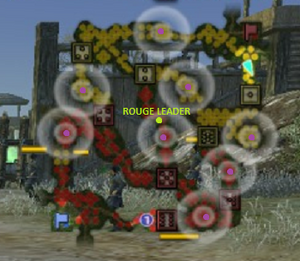 | | |
| --- | --- |
| Quest Grade | B |
| Quest NPC | Blacksmith |
| Time | 14:56 |
| # of Players | 2 |
| Major Domestic | Commerce |
| Minor Domestic | Military |
| Damage needed? | Yes |
Bases
1. Troops
2. Captain
3. Captain
4. Tower
5. Captain
6. Troop
7. Captain
8. Tower
Player 1 should handle all Red bases & Red bandit officers, while Player 2 handles all Yellow bases & bandit officers. After all bases are captured and bandit officers are defeated the Leader will appear in the center of the map, defeat him to finish the quest.
Ad blocker interference detected!
Wikia is a free-to-use site that makes money from advertising. We have a modified experience for viewers using ad blockers

Wikia is not accessible if you've made further modifications. Remove the custom ad blocker rule(s) and the page will load as expected.