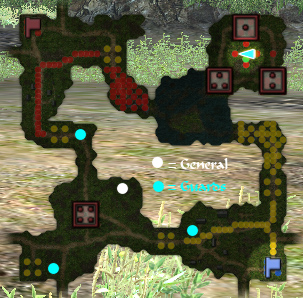 | | |
| --- | --- |
| Quest Grade | S |
| Quest NPC | Commanding General |
| Time | 14:56 |
| Major Domestic | Military |
| Minor Domestic | Technology |
| Damage needed? | Yes |
Objectives
Capture all 4 bases
Get 1,000 KO's
Defeat 3 Elite Guards
Defeat your General
Bases
1. Troop
2. Officer
3. Tower
4. Captain

Rewards
+4 Cape of your representing faction
2 Luxurious Sash
1 Way of Musou
You start in the Northeast section of the map surrounded by 4 NPC generals and you have to make your way to the East part of the map where the yellow troops are. In the area get your KO count to about 800 then make your way back to the Northeast section and capture the bases. After capturing the three bases, head to the Southwest part of the map and complete the 1,000 KO's requirement on the way. Capture base 4, defeat the three elite guards represented by the three Aqua dots on the map. Then the General will appear, defeat them to finish the quest.
Note: You can purposely die in the Northeast section by letting the generals kill you and you will respawn in the Supply base at the bottom right of the map.
Video
Ad blocker interference detected!
Wikia is a free-to-use site that makes money from advertising. We have a modified experience for viewers using ad blockers

Wikia is not accessible if you've made further modifications. Remove the custom ad blocker rule(s) and the page will load as expected.